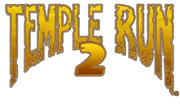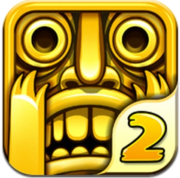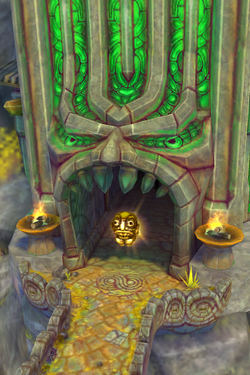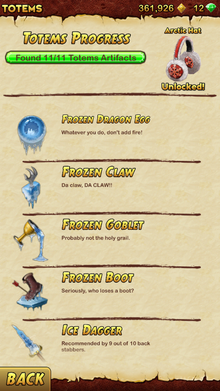 Temple Run 2 is the sequel to the original Temple Run and also is the third installment of the Temple Run series. It was released for iOS on 16th December 2012 & for Android on 18th December 2012.
You can download this game for your device from here.
Gameplay
Temple Run 2 features a new scenario which mixes Asian style temples, grass paths through a forest, rivers, zip-lines, mines, narrow bridges and aqueducts. You have to jump over obstacles (swipe up on the screen), slide under others (swipe down), turn at intersections (swipe left or right), and move to the left or right to collect coins or avoid obstacles (tilt your device left or right).
Instead of the three smaller demon monkeys in the first game, the player is chased by a single, much larger monkey. The temple was at one time on the ground; an ancient civilization built the temple but they were killed by a disease. The leader of the civilization was spared by a remedy, but because he didn't die, the potion turned him into the large demon monkey that chases you from the temple. Before this, though, the civilization mined impressive green gems. Believing that they were gifts from their gods, they built large and impressive structures with them. They built a temple for their supreme god and a little while later the disease hit. As time passed, the temple remained unfound until the gems that where placed all over the huge temple were suddenly charged by an unknown source of power. They lifted the temple out of its hiding place, and because of its huge size, it was found quickly. Treasure hunters came from across the world to find the treasure that the carvings and writings found in the first temple had told about. Finally, after thousands of failed attempts at locating the fabled golden idol, a few people together managed to find it only to be attacked by the leader of the ancient civilization. You are one of those people and the rest of the story depends on you.
On December 3, 2015, version 1.19 was introduced. Along with this version for a limited time came Frozen Shadows, "a forbidding new land, full of obstacles and challenges. Surf the luge, race across the frozen forests, unlock new outfits, and above all, beware the snowy Demon Monkeys which lurk behind every corner!" Players had the ability to race on either the new Frozen Shadows map, or the original Sky Summit map. Six new artifacts (Frozen) were also released in this version. The story behind frozen shadows was that there is a very beautiful place in Himalayan region that people love to visit. one day a satellite took a picture of a very ancient path covered by snow. from that a lot of travelers from the world start finding it but everybody failed the last explorer which is your runner with which you play found that path & start following it. After sometime the traveler reach a frozen snowy temple in an arctic region and he enter the temple he found a paper that reveals the history of the temple & he/she found that there was black evil ghost type shadow with super natural power converted this place into a frozen forbidding land 6700 years ago. also converted the leader of the place to an evil snowy yeti type demon monkey. however people trapped that shadow into the golden idol so that the shadow can never be able to escape from the idol and named that place "FROZEN SHADOWS". After that they kept that idol in the frozen temple created by the shadow. they requested the leader(demon monkey) to protect this idol from any individual. after knowing truth of the place the player touched the idol to see the shadow. but the idol suddenly disappeared and a large demon monkey start chasing the player, Rest of the story depends on you.
In the Halloween update of 2016, the map Sky Summit was changed into Spooky Summit. However, when the new update came, that map became an separate map all of its own, costing 200 Gems!
Leveling
The leveling system has been revamped: you can no longer achieve multiple goals at once. Instead, a player can only complete three goals at any given time. For example, if the goal is to complete a 1000m run without tripping and you run 2500m, the only goal that will be accomplished is the 1000m one. You will need to complete the 2500m goal when it becomes available. This new system allows a player to fully complete the objectives over a longer time period.
There are two ways to increase one's score multiplier. One way is to buy the upgrade called "Score Multiplier" with the coins that you manage to collect. The second method is completing the goals throughout the game, which will then eventually raise your level. 
Utilities
Boosts from the first game are no longer buy-able items; instead, the game will offer a Head Start at the start of a run whenever the player has 2,500 or more coins available. Activating it will boost you ahead for 1,000m. When a player has 10,000 or more coins, you can then get a Mega Head Start, which will boost you for 2,500m.
These can be upgraded so that Head Start can cost down to 2,000 coins, and Mega Head Start down to 7,500 coins.
Save Me
After death, the game will offer a second chance (similar to the Angel Wings in Temple Run) in exchange for gems (1 gem for the first time in a run, 2 for the second, 4 for the third and so on). Since the number of gems required increases very quickly, it is wise to purchase upgrades for Save Me which reduce the number of gems required by up to 5 (although the minimum cost remains at 1 gem). In addition, there is also one free Save Me that allows the player to watch an ad in exchange for a Save Me. You can use "Save Me" five times in a single run.
In later versions, upon using a Save Me, a bonus wheel will appear and you can spin it for something handy. You may get coins, power-ups, or in rare case, gems. If you don't like the result, you can use another gem to re-spin the wheel.
Abilities
Coin Value
Shield Duration
Boost Distance
Pickup Spawn
Power Meter
Save Me
Head Start
Score Multiplier
Wheel Bonus
Bolt Distance
Power-ups
Shield: Helps protect you from obstacles. (In Temple Run, it is called Invisibility, but in Temple Run 2, it is called Shield.) Unlike Invisibility, Shield does not protect you from falling. Also, if you run into an obstacle, the Shield effect disappears but you will survive the obstacle.
Coin Bonus: Instant 50 coin bonus (added to your running total for that run, with points equal to collecting 50 coins).
Boost : Engages boost instantly.
Score Bonus: Instant 500 point bonus (added to your basic score for that run, and is affected by multiplier)
Coin Magnet : Engages magnet instantly.
Gem Bonus: Gives you one gem.
To activate any of these, you need to double-tap anywhere on the screen when you see that the Coin/Power Meter, in the upper left corner of the screen, is glowing green. To fill the meter, the player will need to collect coins or pick up a couple of the larger gold coin power-ups. (The Power Meter ability can be upgraded with coins, which reduces the amount of time required for the meter to fill up).
Challenges
Daily and weekly challenges reward the player with coins or gems when completed. All of these challenges require a random task to finish.
Daily Challenges: These challenges may contain tasks of "in one run" or "in total".
Day 1: Rewards 250 coins.
Day 2: Rewards 500 coins.
Day 3: Rewards 750 coins.
Day 4: Rewards 1000 coins.
Day 5: Rewards either coins (5000 - 15000) or gems (1 - 25).
Weekly Challenges: There are always three weekly challenges which can be done in multiple runs. The first challenge will award 1000 coins, the second will award 5000 coins, and the final one will award exactly ten gems.
Artifacts
See also: Category:Artifacts
Beginning with version 1.5 in October 2013, artifacts were introduced to the game. Collecting artifacts can earn a reward (coins or gems), which can be claimed in artifact screen. Some artifacts are only available during certain parts of the year for only a few weeks at a time, like holidays. The most exclusive artifacts so far are the Championship Artifacts, which were only available during the 2016 Rio Games.
Sky Summit

Charms
Infinite Loop : 100 coins
Angel Wings : 100 coins
Twisted Root : 250 coins
Floating Island : 250 coins
Sky Clasp : 500 coins
Demon Claw : 1000 coins
Ruby Shard : 2500 coins
Cave's Maw : 1 gem
Mystic Rocks : 1 gem
Idol's Curse : 2 gems
Collecting all ten unlocks the Ring Hat.

Totems
Fire Breather : 100 coins
Infinite Seeker : 100 coins
Traveling Tiki : 250 coins
Skyward Scream : 250 coins
Serpent's Smile : 500 coins
Silent Menace : 1000 coins
Jade Monster : 2500 coins
The Gatekeeper : 1 gem
Demon Skull : 1 gem
Face of the Idol : 2 gems
Collecting all ten unlocks the Mask Hat.

Fauna
Cucumingo : 100 coins
Ultra Beetle : 100 coins
Exotic Bird : 250 coins
Toad : 250 coins
Winged Screamer : 500 coins
Thorny Snail : 1000 coins
Chameleon : 2500 coins
Melon Turtle : 1 gem
Flying Piranha : 1 gem
Gemini Snake : 2 gems
Collecting all ten unlocks the Critter Hat.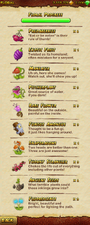 Flora
Predaberries : 100 coins
Exotic Fruit : 100 coins
Maneater : 250 coins
Pitcherplant : 250 coins
Rare Flower : 500 coins
Fungus Amongus : 1000 coins
Snapdragons : 2500 coins
Thorny Strangler : 1 gem
Ancient Seeds : 1 gem
Fluorescents : 2 gems
Collecting all ten unlocks the Crown of Flowers.

Relics
Golden Llama : 100 coins
Greek Vase : 250 coins
Ushabti : 500 coins
Neo Dagger : 1000 coins
Jade Treasure : 1 gem
Collecting all five unlocks the Crown of Snake.

Frozen Shadows
Totems
Frozen Dragon Egg : 100 coins
Frozen Claw :(Info not available)
Frozen Goblet : 500 coins
Frozen Boot : 1000 coins
Ice Dagger : 1 gem
Ceremonial Blade : 2 gems
Light Shield : 100 coins
Wyvern Shield : 250 coins
Viking Shield : 500 coins
Skull Shield : 2,500 coins
Serpent Shield : 1 gem
Collecting all eleven unlocks the Arctic Hat.
Armor
Woven Belt : 100 coins
Fur Boots : 100 coins
Ancestral Breastplate :(Info not available)
Golden Shin Guards :(Info not available)
Armored Sash : 200 coins
Greaves of Frostbite : 250 coins
Captain's Shoulder Piece : 1000 coins
Frost Helm : 1 gem
Collecting all eight unlocks the Frozen Shadow Helm.
Flora
Frost Bells: 100 coins
Winter Radish: 100 coins
Grump Root: 200 coins
Ice Berries: 250 coins
Weeping Tundra Willow: 500 coins
Fur Caps: 250 coins
Ice Seeds: 1 gem
Prickle Cones: 1000 coins
Collecting all eight unlocks the Essence of Deer.
Fauna
Buck Toothed Slapper: 100 coins.
Tundra Snapper: 100 coins.
Lagopuff: 200 coins.
Otterhawk: 100 coins.
Pug Seal: 500 coins.
Great Horned Winterbear: 1000 coins.
Wallbird: 250 coins.
Llotter: 1 gem.
Collecting all eight unlocks the Shadow Horns.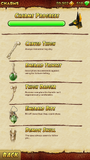 Blazing Sands
Charms
Carved Thigh: 100 coins
Emerald Trinket: 100 coins
Thigh Dagger: 250 coins
Emerald Bite: 250 coins
Demon Skull: 500 coins
Jaw Bone: 500 coins
Vulture Skull: 1000 coins
Golden Talon: 1 gem
Collecting all eight unlocks the Anubis Head Piece.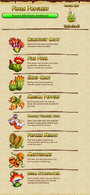 Flora
Luminous Cacti: 100 coins
Fire Petal: 100 coins
Hand Cacti: 250 coins
Magma Peppers: 500 coins
Bramble Thrasher Seeds: 1000 coins
Prickle Melon: 200 coins
Mawthorns: 100 coins
Regal Stinkflower: 1 gem
Collecting all eight unlocks the Cactus Hat.
Fauna
Disco Stinger : 100 coins
Fennec Nocturne : 100 coins
Frilled Screamer : 250 coins
Ghost Gecko : 500 coins
Golden Screech : 1 gem
Noah Jerboa : 200 coins
Speckled Arachnid : 250 coins
Stink Frog : 1000 coins
Collecting all eight unlocks the Foxy Ears.
Lost Jungle
Fauna
Cocoon Spider : 100 coins
Dino Chicken : 100 coins
Fur Worm : 200 coins
Horned Basilisk : 250 coins
Murder Bird : 500 coins
Ratodile : 250 coins
Spike Beetle : 1 gem
Water Dog : 1000 coins
Collecting all eight unlocks the Spiked Band.
Manuscripts
Wooden Story Tablets : 100 coins
Ancient Clay Coins : 100 coins
Fallen Tapestry : 250 coins
Feathered Talisman : 250 coins
Stacks of Scripts : 500 coins
Shattered Tablet : 250 coins
Singed Scroll : 1 gem
Spider Tome : 1000 coins
Collecting all eight unlocks the Jungle Thinking Cap.
Totems
Worn Brass Kettle : 100 coins
Pocket Compass : 100 coins
Critter Box : 200 coins
Small Elephant Statue : 250 coins
Amethyst Hourglass : 500 coins
Flower Candle : 250 coins
Clay Mortar : 1 gem
Peacock Fan : 1000 coins
Collecting all eight unlocks the Jade Demon Mask.
Special Events
All of these artifacts are available for only a few weeks at a time around the the date of the event.
Christmas
Candy Cane : 250 coins
Stocking : 500 coins
Holly : 1000 coins
Present : 2500 coins
Wreath : 2 gems
​Collecting all five unlocks Santa Hat.

Valentine's
Chocolates : 250 coins
Card : 500 coins
Bouquet : 1000 coins
Gift : 2500 coins
Hearts : 2 gems
​Collecting all five unlocks Bouncy Hearts Headband.

St. Patrick's
Four Leaf Clover : 250 coins
Rainbow : 500 coins
Leprechaun Boots : 1000 coins
Pot O' Gold : 2500 coins
Emerald Idol : 2 gems
​Collecting all five unlocks Leprechaun Hat.
Easter
Chocolate Bunny : 250 coins
Basket : 500 coins
Baby Chick : 1000 coins
Jelly Beans : 2500 coins
Golden Egg : 2 gems
Collecting all five unlocks Bunny Ears.

4th of July
Flag : 250 coins
Bald Eagle : 500 coins
Cannon : 1000 coins
Hot Dog : 2500 coins
Fireworks : 2 gems
Collecting all five unlocks Uncle Sam Hat.
Halloween
Crystal Skull: 250 coins
Haunted Corn: 250 coins
Creepy Eyeball: 1000 coins
Skeleton Key: 1250 coins
Tombstone: 1 gem
Collecting all five unlocks Jack-O-Lantern Head.

Thanksgiving
Turkey Totem: 125 coins
Meat Chunk: 500 coins
Infinite Pies: 500 coins
Gravy Bowl: 2500 coins
Golden Corn: 2 gems
Collecting all five unlocks Pilgrim Hat.
Championship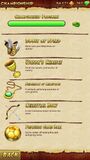 (Only available during the Rio Olympic Games)
Boots of Speed
Victor's Chalice
Medallion of Champions
Celestial Bow
Priceless Game Ball
Inspiring Flame
Participation Ribbon
Ancient Scorecard
Collecting all eight unlocks Championship Crown.
Tactics
A selection of tactics:
It is possible to sometimes see power ups around corners before turning, this gives you a better chance at collecting the power up.
Engage boost to easily get past difficult parts of the game.
You can still tilt and turn corners whilst airborne. Use this to your advantage allowing you to jump at the last minute then change lanes to safety.
Artifact chest can only be collected once per run. If you're trying for a challenge or unlock, your best bet is to take a dive and die when you collect the chest. If you miss a chest on a run another will eventually reappear. There is no pattern or guarantee to the chests, they could be the first power-up you get or the 500th, likewise their contents are also random. You may have 7/8 collected and still take you another 8 chests to pick up the last one you need.
Using the Gem ability, you can easily complete challenges that require you to pick up multiple gems in a single run. Using the ability counts towards this.
Upgrades
Upgrade in the following priorities:
Coin Value
Coin Magnet / Boost
Power Meter / Pickup Spawn
Score Multiplier / Save Me / Shield Duration
Head Start
Unlocking Characters
"The only character really worth unlocking is Scarlett Fox. I unlocked Barry Bones for coins bonus, but it's very small, it doesn't increase your coin/power meter (unlike similar coin power-ups on the map). Karma Lee is not worth upgrading too. Her power up gives you 500 bonus points, while Boost runs you through a distance of 400 meters, times the multiplier gives you over 20,000 points at once."
After some update, Scarlett Fox is available at the beginning.
Since Maria Selva is required for the objective "Photojournalist", you need to unlock her
As of Frozen Shadows, you need to unlock the alternate outfits of Guy Dangerous and Scarlett Fox, due to related objectives.
Gem Farming
Upon reaching level 13 you unlock the Gem Bonus ability. If you power this with gems (4 per boost) then you are awarded a 6 Gem bonus immediately on hitting your boost meter. Use this technique to farm gems for use with Save Me.
This ability has been reworked, from "2 each use, 5 when powered with 2" to "1 each use, 6 when powered with 4". You still get one more gem per powered ability, however the total amount has been decreased.
Gameplay Power-up
Have your character equipped with the alternative (Boost or Coin Magnet) and then use both power-ups at the same time. Your character will then run through the map whilst collecting every coin.  This is similar with purchasing the Usain Bolt character for his 'Bolt Boost' ability.
Power-Ups: More Detail
Collecting power-ups is not affected by the tilt of your device. You can collect power-ups on top of hills by jumping just before the top. Power-ups above the slope itself (leading to the top of the hill) cannot be collected easily, so make good practice. Some power-ups are placed in awkward positions where collecting them will lead to death, e.g. you jump to collect a power-up and then fall in the gap in front. Only the Boost power-up is worth collecting in such cases (as it allows you to survive the next obstacle). Power-ups, as well as slide-under obstacles, can be jumped over in very rare cases (e.g. jumping from top of the hill while on boost).
Shield
It only protects you from obstacles such as roofs, fire, wheels with spikes, wooden trippers (in the Narrows) etc. It doesn't protect you from falling! It only protects you from one obstacle
Coin Bonus
Instant 50 coin bonus
Boost
Engages Boost instantly
Score Bonus
Instant 500 point bonus
Coin Magnet
Very helpful power-up, as you don't need to tilt your device so much. It can drag coins from other turns while on the railways. Works perfectly with Boost.
Large Coin
Fills your Power Meter by approximately 1/3 and gives you 50 coins. This is very helpful because it can fill your meter.
Gem Bonus
Gives you a gem, but up to 6 gems if maxed out the bar, and they can be used revive after death with Save Me.
Bolt
Engages Bolt power instantly.(Should buy Usain Bolt to unlock.)
Typical fails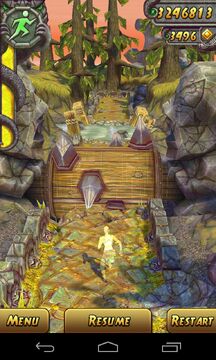 Fast turns are very dangerous as surviving depends on how quickly you can react.
(Prior to a June 2013 update, it was not uncommon to encounter two jumping obstacles back-to-back, as in the picture above. It required extreme precision to land between the two and then immediately jump again, or a Shield or Boost power-up.)
Other information
While sliding on the zipline, relax. Tilt your device to get coins. Nothing can happen to you.
Aquaducts is probably the easiest part of Temple Run. Simply tilt your device to one of the sides and keep it there until you need to tilt it to the other side (to get coins or to turn). You aren't recommended to use Boost there, as you'll probably miss most coins and as it's such an easy part. Consider aquaduct as a chance for you to refill your Power Meter. (Best thing here is to get it filled and upon the end collect Coin Magnet).
Railway however is difficult due to the fact that you can't see what's ahead, high chance of crashing into dead end. If you activate boost in a railway or aquaduct, the boost will take you to the nearest exit (by taking the correct turns).
There is a semi-tilt! If you slightly tilt your device to the left (or right), you are able to collect coins from both central and left (or right) lines! Remember this when on Boost, as adjusting there is difficult. But if semi-tilt is used, you have a chance of collecting 2/3 of all coins.
Infinirunner is probably a life-time goal for most players. Ask your friends, siblings, relatives, and grandparents for help!
If you continually slide while in Boost mode, your invincibility will wear off, but you will still be running fast. This is not advised, as it is harder to react in time to dodge the obstacles and it does not end even if you enter Boost mode again (you'll still be running super fast afterward).
There appears to be a glitch where the user can obtain insane amounts of coins and gems. I do not know the cause, but it has happened to me. I will put up my screenshot as soon as possible.
Community content is available under
CC-BY-SA
unless otherwise noted.