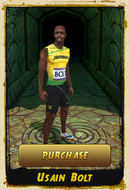 Usain Bolt is a character in Temple Run 2. In August, he was available for purchase with real money for a limited-time ($0.99), though this was later made permanent.
He was born on that month in 1986. He is also the first ever Guest Star in the Temple Run series. He is known for being the fastest man on earth.
He has a special powerup called Bolt Distance, which is, in essence, the combined powers of the Boost Distance and Magnet powerups.