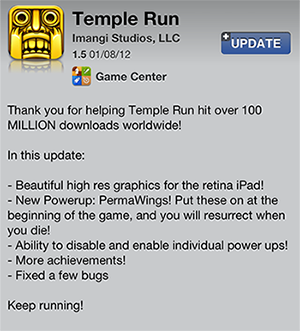 Version 1.5 is an update that was released on August 1, 2012 in the App Store by Imangi Studios, LLC. It includes new features and a thank-you message for reaching 100 million downloads worldwide.
Included in the Update
Edit
Beautiful high-resolution graphics for the Retina Display iPad.
A new powerup, Perma-Wings, which is enabled at the beginning of a game and will last until the player dies.
The ability to disable and re-enable individual powerups by paying 25,000 coins for each powerup.
New achievements.
Fixed bugs for better performance.

And in addition, as mentioned above, a message from Imangi Studios, LLC.
"Thank you for helping Temple Run hit over 100 MILLION downloads worldwide!"
The info graphic
Edit
As the 1.5 update complimented a huge accomplishment, Imangi created an info graphic picture to show off the feats reached since Temple Run was released. Due to it's large size, a link is needed to view it. You can view the picture here.